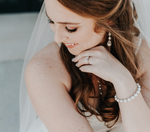 The jewelry I received from Seraphine Creations was absolutely gorgeous. The earrings, necklace, and bracelet went perfectly with my wedding dress. I never once worried about my wedding day jewelry since I had the perfect pieces from Seraphine Creations. Their jewelry and accessories are all so elegant and beautiful! I'm so glad that out wedding photographers, Kay + Bee, recommended them to me!
Wedding day couldn't have come soon enough. Billy and I had both been counting down the seconds until we said "I Do" and to be able to call each other husband and wife. It was such a sweet season of engagement and even sweeter day of getting married. Being surrounded by all your favorite people and loved ones is so special.
We had both decided we wanted to have a wedding during springtime, which is always a little risky when you live in Texas. We immediately fell in love with our venue when we drove up to tour it. We knew Dove Ridge Vineyard in Weatherford, TX was where we wanted to become husband and wife. Dove Ridge Vineyard feels like an escape from DFW. You are instantly surrounded by such a breathtaking view. We wanted an outdoor ceremony and an indoor reception, so Dove Ridge was perfect. We ended up having a more rustic theme, with the colors of lavender and gray.
After selecting the venue, all the other details came together. Our photographers, Kay + Bee, were the next big vendor we selected. They are absolute rock stars at what they do. You instantly want to become their BFF. They are so fun and make the photography process so easy. We really felt like we could be ourselves around them. We are so happy we had Kay + Bee as our photographers!
Back Home Bakery in Weatherford, TX was our cake vendor. We had so many compliments on our cake and how tasty it was! We absolutely loved our wedding cake and would absolutely recommend Back Home Bakery to anyone.
Our wedding day ended up having perfect weather. We had all been a little worried about rain since there was always a chance in April. We were blessed with beautiful blue skies on April 28, 2018. That day was full of love and so perfect.