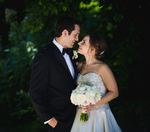 My wedding was at the Mid America Club in downtown Chicago, IL. The hair piece is simply beautiful and very well-crafted. I had gone through various iterations with my stylist, making sure this piece was kept in mind.

- Michelle
Originally, I had intended on removing it in place of a veil for the ceremony, as it would have been easy to remove without ruining my hair,  but ended up simply placing the veil over it and loved it as an accent underneath as well. 
I was very excited to see it coming from Poland- this was special to me, as my grandmother is from there, and she passed a few years back.  
Photography: Steve Koo Photography