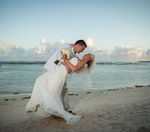 I had many compliments on all my jewelry from Seraphine. The quality is outstanding!

- Natalie
I had always dreamed of having that destination wedding on the beach.  Well, we fulfilled that wish and my husband and I were married at a beautiful resort south of Playa del Carmen, Mexico.
I had a fairly simple dress, but was struggling to find the perfect jewelry.  I had an idea of what I wanted and it included pearls and elegance.  I think I searched longer for my jewelry than any other items for the wedding.  However, when I found Seraphine Creations I was ecstatic.  I had a very hard time choosing from all the beautiful designs.  I pondered for a few days and finally narrowed down my selection.
When my jewelry arrived, it was gorgeous.  I knew it was going to be beautiful, but I was truly amazed.   It was absolutely beautiful from a presentation perspective from the package it arrived in to the jewelry in its entirety.  The jewelry is simply amazing and it is of great quality and construction.  I will be purchasing several other pieces from Seraphine Creations!  Thanks for making my wedding day beautiful and extra special!